---
SHPE HOUSTON PROFESSIONAL CHAPTER
The Society of Hispanic Professional Engineers (SHPE) Houston Professional Chapter is a non-profit, 501(c)3 organization, dedicated to promoting careers in the fields of Science, Technology, Engineering and Mathematics (STEM). Our chapter executes over 30 projects annually targeting Elementary, Middle School, and High School students and awards scholarships to students pursuing college. We also work very closely with area college students at the University of Houston and Rice University to support and mentor their membership. We operate on membership dues and tax deductible, in-kind donations. We also offer opportunities for professional development through workshops and social networking. If you are looking to give back to your community, and help increase the number of students entering the STEM fields, this is the organization for you.
---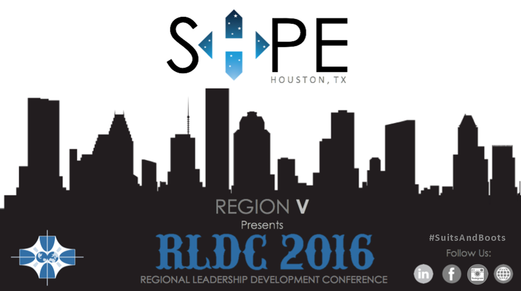 Region 5 - Regional Leadership Development Conference
If you missed National Conference, this is your golden opportunity! RLDC is an annual event that cultivates learning about leadership development, professional development and hosts numerous events dedicated to networking.
​
So grab a friend and help us show the region what Houston is all about. Let us know if you have any questions.
P.S. Don't forget to wear your suits and pack your boots!
Tickets>>
Agenda>>



​​Hotel:
Four Points By Sheraton
2828 Southwest Freeway
Houston, TX, 77098
Conference Location:
University of Houston
4800 Calhoun Rd
Houston, TX 77004
Registration:
Registration w/Lodging Ends: February 7, 2016
Registration w/o Lodging Ends: February 21, 2016
---
---
SHPE Houston Awards
2014 - 2015
- National NRP 1 Blue Chip Award
- Region 5 Professional Development Award
- Region 5 Blue Chip Chapter Status
- Region 5 Outstanding Professional Development
- Region 5 Outstanding High Membership
- Region 5 Spirit of SHPE Award
- SHPE Adelante Award - Regional Professional - Chapter of the Year
2013 - 2014
- National Outstanding Professional Development


Newsletter Signup
---

- SHPE member since when?
Morena became involved with the SHPE Houston Professional Chapter late 2012. She is currently serving on the executive board as the chapter's Treasurer and previously served as the 2013-2014 Community Outreach Coordinator. Morena was appointed to serve on the 2014-2015 SHPE Region 5 Leadership Team as Communications Director, where she promoted regional event through social media and the Region 5 "Wolfpack Express" quarterly newsletter.

- How has SHPE helped you in your career development?SHPE has helped Morena achieve her career goals through professional development seminars, networking opportunities and through community outreach activities. Morena has developed leadership skills through her participation and service on the executive board.

- What do you like most about SHPE?
SHPE allowed Morena the opportunity to help others, many of which like her will be first generation college students. Through SHPE, Morena has mentored and encouraged students who lack positive reinforcement and doubt in their own ability to succeed. Through her own professional achievements and success, Morena inspires students to achieve a college education, to continue forward and to reach their own potential of success.

- What is your proudest moment with the SHPE Houston Chapter?Morena was recognized as the 2014 SHPE Young Engineer of the Year for her initiative, leadership, and commitment through various community outreach events that help empower and motivate students to pursue STEM related careers. She's promoted SHPE by coordinating events at public and non-profit organizations such as the Houston Food Bank and Kids Meals Houston.

- Why would you recommend others to join SHPE?
Morena highly encourages others to join SHPE if they are looking to be a part of something bigger than themselves. The great thing about being a member is the opportunity to connect and network with other talented professionals through various activities; such as professional development seminars, social and community outreach events. SHPE is a great organization that allows its members to benefit as well as give back to the community.

---

---

Member Spotlight